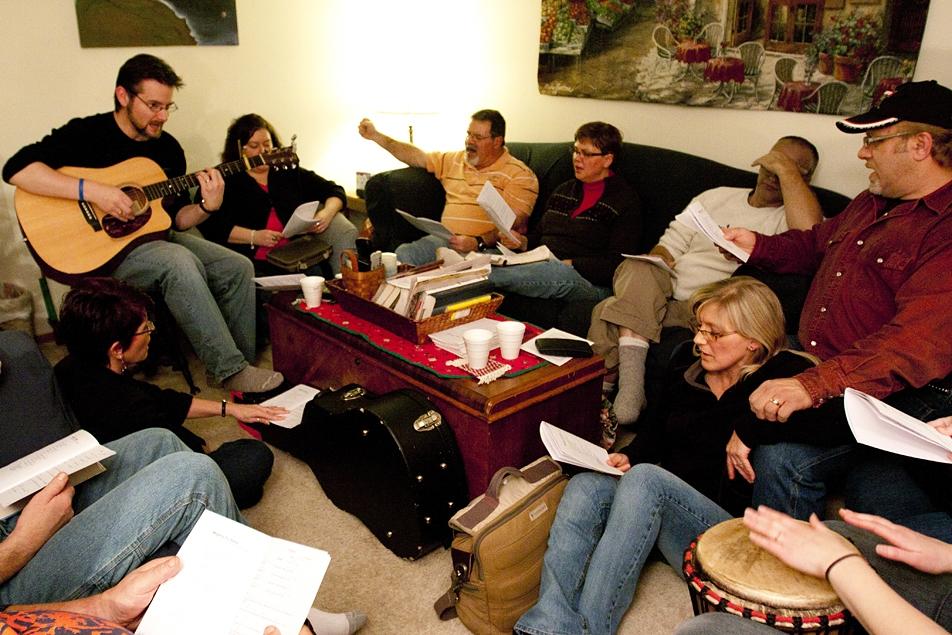 Why Have Church Meetings In Homes?
The Jerusalem church not only met together at the Temple, but also met in homes:
46 And they, continuing daily with one accord in the temple, and breaking bread from house to house, did eat their meat with gladness and singleness of heart, 47 Praising God, and having favour with all the people. And the Lord added to the church daily such as should be saved.

Ac 8:3 As for Saul, he made havock of the church, entering into every house, and haling men and women committed them to prison.
After the Jerusalem church, the New Testament does not record believers meeting in buildings specially constructed for the purpose of church meetings, but in homes:
Romans 16:3-5a Greet Priscilla and Aquila my helpers in Christ Jesus: Who have for my life laid down their own necks: unto whom not only I give thanks, but also all the churches of the Gentiles. Likewise greet the church that is in their house.

1 Corinthians 16:19 The churches of Asia salute you. Aquila and Priscilla salute you much in the Lord, with the church that is in their house. 

Philemon 1:1-2  Paul, a prisoner of Jesus Christ, and Timothy [our] brother, unto Philemon our dearly beloved, and fellowlabourer, And to [our] beloved Apphia, and Archippus our fellowsoldier, and to the church in thy house: 

Col 4:15 Salute the brethren which are in Laodicea, and Nymphas, and the church which is in his house.
In fact, other than the porch in the temple that the Jerusalem Church met in, there is not a single mention in the New Testament of a church building! We know from history and archeology that the early church continued this practice of meeting in homes up until the time of Constantine. Why might they have done this? & why is this a good practice for today?
1. To avoid persecution. Churches that meet in homes can easily "go underground" when persecution comes. But contrary to popular belief, meeting in homes was not just a reaction to persecution. The church met in homes even during times of peace. so obviously, there must have been other reasons why the early church met in homes.

2. To follow apostolic example. The apostles could have commanded early believers to follow the synagogue practice of meeting in a building especially designed for this purpose. But they did not. The early believers were simply continuing the example set by the apostles.

3. To foster fellowship. In the more informal atmosphere of a home meeting, it is easier for believers to fellowship and get to know each other.

4. To save more money for the poor, for missions, and for evangelism. Buildings cost money to build and to maintain. This takes away from the resources that can be devoted other more worthy purposes.

5. To permit rapid church growth.  During the first few centuries of the church, Christianity exploded throughout the Roman Empire. Erecting costly buildings slows things down. Today, there have been similar explosions of church growth in countries such as Cambodia where missionaries have intentionally encouraged a house church model.

6. To encourage community. When several believers who live in the same neighborhood meet together in a home, this can result in wonderful Christian community. This is an ideal can can be achieved as a church grows into a network of home meetings.
           7. To encourage all to grow by participation. We have come to realize the Christian meeting did not just involve one man or a selected few of professionals, but the  Spirit of God had the liberty to move through any saint he chose to. Paul instructed that this should be done in an orderly fashion. 
1 Cor 14:26 (KJV)
26  How is it then, brethren? when ye come together, every one of you hath a psalm, hath a doctrine, hath a tongue, hath a revelation, hath an interpretation.
Heb 10:24-25 (KJV)
24 And let us consider one another to provoke unto love and to good works: 25 Not forsaking the assembling of ourselves together, as the manner of some is; but exhorting one another: and so much the more, as ye see the day approaching.
1 Thess 5:11 (KJV)
11 Wherefore comfort yourselves together, and edify one another, even as also ye do.